15 Years of GDO - £100 Off Selected GDO Side Hinged Doors + Colour Upgrade

Celebrate 15 Years of GDO with £100 Off +
Anthracite & Black Doors, Now on Sale for the Price of White!
Models included in this promotion are GDO Steel Single Skin Side Hinged Doors and GDO 20mm Insulated Side Hinge Garage Doors. *
*Offer excludes any designs with windows. To claim this offer, please use Voucher Code: BIRTHDAYGSH at the Checkout to receive your Extra £100 Off!

---
As we celebrate our 15 year anniversary, we look at what has changed in the last 15 Years?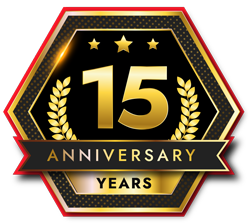 Steel Side Hinged Garage Doors? 15 years ago most side hinged doors we sold were timber and usually lightweight cedarwood. Expensive and full maintenance required and also difficult to install on site with professional carpenters to complete the hanging and setting up. We still sell those timber doors but things have changed.
15 years later and like many products, the advances in materials and finishes has meant a massive increase in the demand and sales for steel hinged garage doors. The same is happening in the world of commercial hinged doors too. Steel is strong, can be shaped and pressed with designs and with modern treatments and finishes, is also very durable and looks good too.
The GDO side hinged garage door range offers a range of designs and colours in purpose made sizes with the outer fixing frame always included and finished to match the door colour chosen. The door, frame and furniture is factory fitted and arrives with you ready to simply offer into the opening and fix and adjust…Simple!
* Prefinished, so minimal maintenance
* Strong and stable construction
* Steel sub frame for fixing
* Made to measure as standard
Our very latest 20mm double skinned steel range offers that extra durability and insulation too from a double skinned panel construction. Again, these doors are totally made to measure as standard for the perfect fit and optimal opening sizes for your garage.
---
GDO Single Skin Side Hinged Garage Doors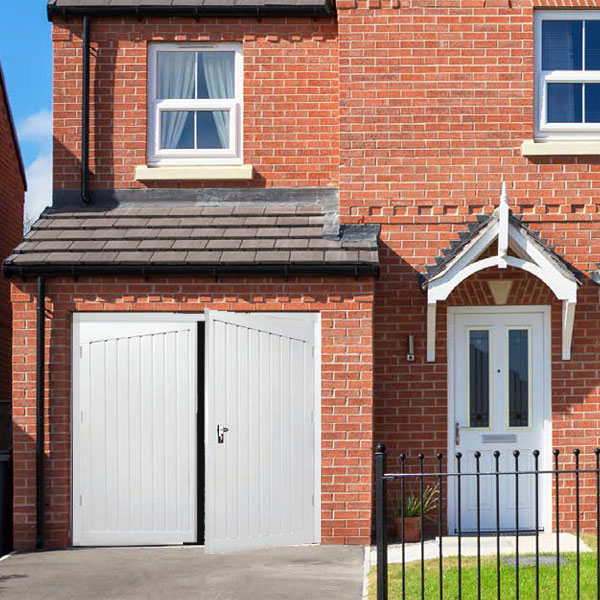 These sturdy steel side hinged doors are a stylish, low maintenance and easy to operate solution for your garage.
The Steel Side Hinged doors have an elegant ribbed design, perfect for adding a modern feel to your garage. GDO Doors offers a sturdy steel construction with a long lasting powdercoat paint finish requiring no further treatment.
As standard, the doors have steel bracing to the back, along with twin latches on the active leaf and shoot bolts on the inactive leaf, for peace of mind for you and your family.
✓ Steel sub frame fitted as standard for the easiest on site installation to your structural opening
✓ Strong and robust doors
✓ Range of Factory Finished Colour Options
✓ Easy Fit with Factory Fitted Steel Frame
✓ Purpose Made Sizes Available
✓ Suitable for openings right up to 10ft wide.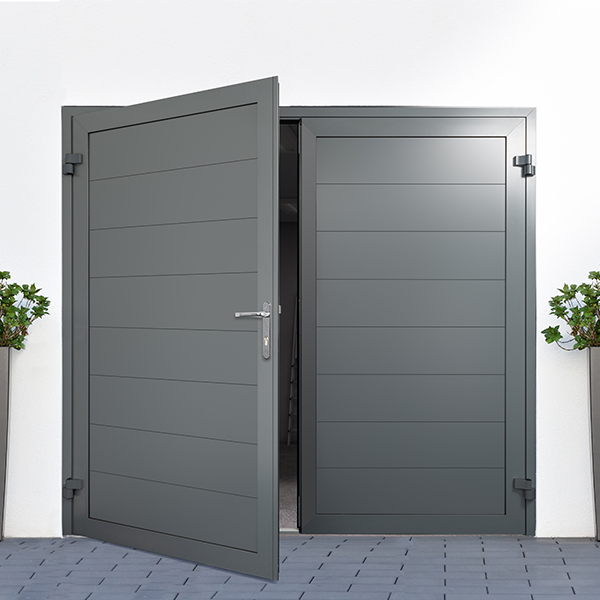 GDO 20mm Insulated Side Hinged Garage Doors
More strength and stability than Single Skin steel hinged doors with the added benefits of insulation and greater security.
Our latest 20mm double skinned steel garage doors offer a great solution for so many garages where you want that little extra reassurance on the overall integrity.
✓ 20mm Double skinned insulated steel door panels
✓ Added strength and security
✓ Pre-assembled with sub frame for easy fit
✓ Choice of finished colours in stipple effect
✓ Concealed shoot bolts to top and bottom of inactive leaf holding the door panel secure
✓ Handles, hinges and all relevant fittings and hardware are all pre fitted to the doors
✓ Durable powdercoat colour finish options
✓ Threshold as standard
✓ 3-point security locking option
✓ Made to measure as standard
✓ Manufactured in the UK
Click on the doors below to view in our online shop:
The GDO steel up and over garage doors are available in either canopy or retractable operating gear and is an ideal door for basic manual operation.

Available without a steel sub frame for installation to a timber sub frame or with a factory fitted steel sub frame to fit directly to your structural opening with the easiest and fastest installation process.
Upgrade to Black or Anthracite Finish for the Price of White. Offer Ends 30.11.2023
* Models included in this promotion are GDO Steel Single Skin Side Hinged Doors and GDO 20mm Insulated Side Hinge Garage Doors.
Offer only applies to doors without glazing.
Prices have been adjusted within the product pages so prices will automatically not be applied at time order is placed. Use Voucher Code: BIRTHDAYGSH to save £100.