Carteck Side Hinged Triple Locking Upgrade

Protect your garage or home and add the triple point locking option for Only £169.50! Saving you £399!
The Carteck steel double skinned insulated side hinged doors offer fantastic security and excellent insulation for any garage. They are a doube skinned steel construction, fully finished and pre fitted into an aluminium sub frame ready for easy on site installation.

The Carteck Side Hinged doors are built with 40mm thick interlocking panels and an aluminium hollow section frame that provides excellent strength, rigidity and resistance to corrosion.
The mitred door leaf frame 40mm and door frame are finished in a matching smooth finish for white, Trend and RAL coloured rigid foam filled panel doors and a complimentary flat colour for Golden Oak (RAL 8003), Rosewood (RAL 8016) and Night Oak (RAL 8014) wood design finishes.

Not only are side hinged doors ideal for anyone using their garage frequently due to their easy pedestrian access, but they also offer brilliant security and weather sealing. Their insulating properties also convenience those who use their garage as an additional room to the home. With this in mind, security is an absolute must!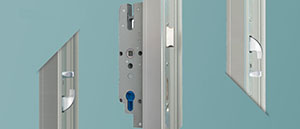 E: Triple Locking Option

The triple point locking is an additional safety feature for the Carteck Side Hinged Garage Doors. The active leaf is available with three point locking for greatly enhanced security. The locks provide enhanced strength to combat attempts to force them apart.
ONLY £169.50!

Every detail is covered with the Carteck Side Hinged Doors!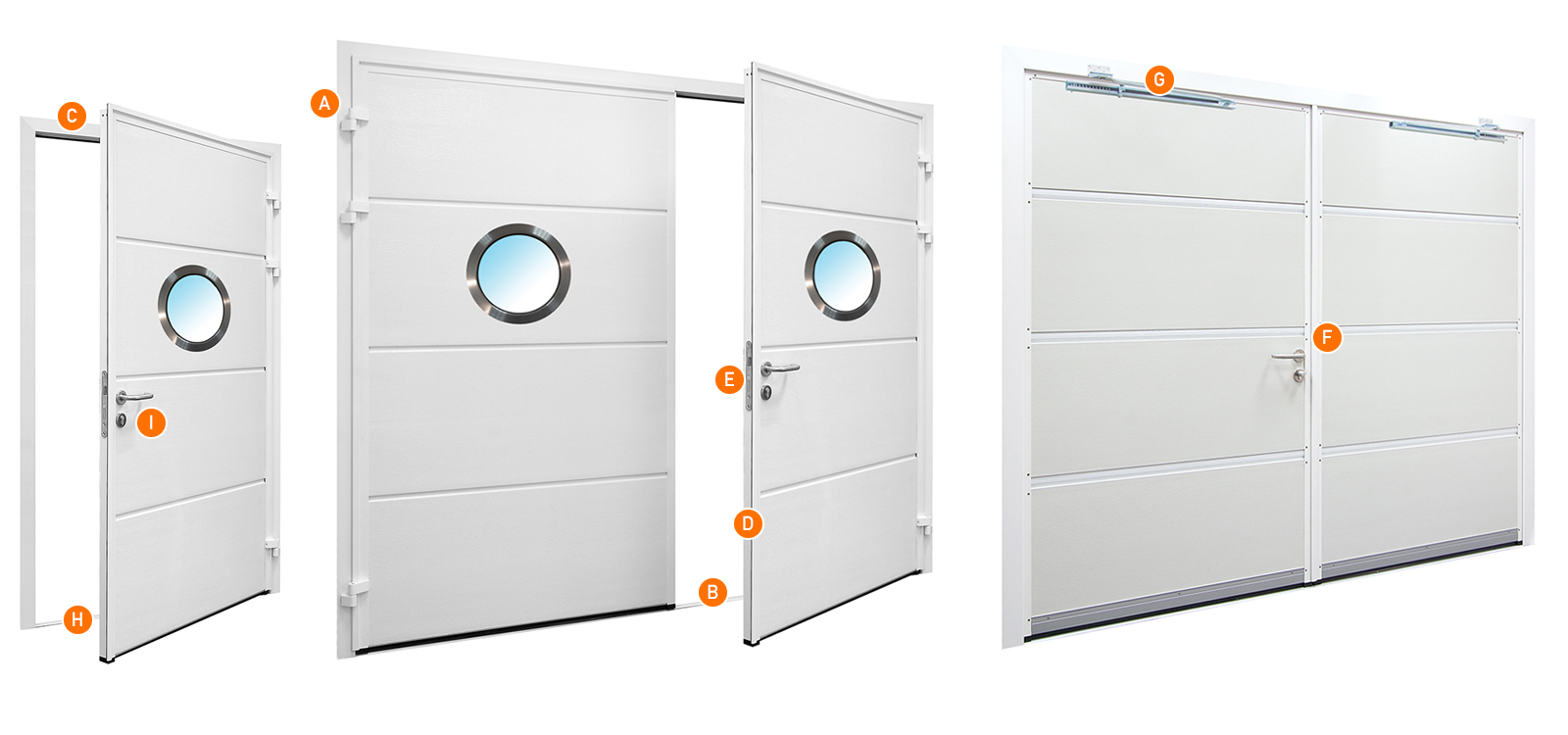 A: High Quality Hinges

Aluminium hinges with secured hinge bolts make it extremely difficult to lever open the door and are easily adjusted. Two or three hinges are fitted to each leaf dependent on size.


B: Standard Threshold

The aluminium profile supplied as standard, provides a simple low profile threshold. For improved weather protection, a stepped aluminium threshold with a bulb weather strip is available as an optional extra.


C: Double weatherstrips and mitred corners

In addition to the circumferential weather strip around the door leaf, the door frame has a three-sided weather strip for excellent draught reduction. Profiles are mitre jointed for a neat finish.


D: Flush Bolt Security

The inactive leaf is secured with flush bolts to the top and bottom of the leaf. The picture also shows the rot proof floor weather strip and the inner rebate.


F: Neat inside too

The inside of the door is very presentable. There are no unsightly bracings just a wipe clean surface finished in a practical grey white stucco texture (RAL 9002).


G: Door Stays

These top grade, spring dampened stays hold the door securely in the open position. A simple de-latch motion releases the held door leaf. Any leaf below 780mm wide (including asymmetric side hinged doors) will not have a stay. Note - not designed for high wind applications.


H: Lipped Threshold

For improved weather protection, a stepped aluminium threshold with a bulb weather strip is available as an optional extra. The door leaves close against the raised weather strip creating an improved barrier to dust and debris. The threshold includes a thermal break reducing heat transfer.


I: Stainless Steel Handles and Security Locking

High grade stainless steel handles and lock covers are tough and attractive, whilst the latch and dead bolt combination provides dependable security. The inactive leaf incorporates a stainless steel strike plate and steel lock keep box for added attack resistance.