Electric Roller Doors - Cheaper than 15 Years Ago!

As we celebrate our 15 year anniversary, we look at what has changed in 15 the last Years?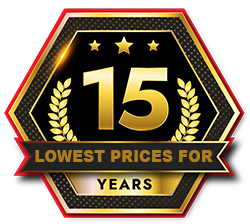 Our first ever sale was for an electric roller garage door when we launched Garage Doors Online in October 2008. We only sold the Seceuroglide electric roller doors back then as we knew they were about the best roller door you could buy in the UK from already selling them for the previous 15 years or so within our group. 15 years later and so many small companies have sprung up in the UK making roller garage doors. They are all effectively cheaper copies of an original concept and specification.
The best roller doors are still sold by GarageDoorsOnline, but we have far more choice now - A wider price range for different sizes, features, colours and controls.
Our GDO electric insulated aluminium roller garage door range hopefully captures the sizes, specifications and colours which most customers want from a roller garage door. What we found when researching customers using garage doors generally was that over 60% of people didn't use their garage for a vehicle, but another room of some sort to the main house. Going in and out on foot therefore meant an easier and simpler option for opening and closing the electric roller door was using a wall mounted button inside, or a key switch outside the garage. We have provided such a door, but also give the option for the same electric doors with remote control operation. Take a look at our GDO range and yes, the prices are lower than our first ever sale from 15 years ago for what is now the same specification door!!
---
Lowest prices ever for our market leading GDO push button and remote controlled insulated aluminium roller shutter doors.
We are offering the lowest prices ever in November for our market leading, GDO electric aluminium roller garage door range.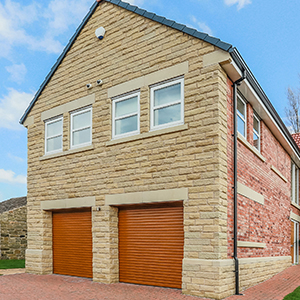 Our Prices are actually lower than they were 15 years ago!! We have reversed inflation and improved the entire specification and choices available to offer an electric roller garage doors with either a simple internal button control system, or a remote control operated system with 2 handsets as standard.
Don't take any risks from the many cheap and fly by night sellers on places such as Ebay, trust a company who have been selling electric, made to measure garage doors since 2008 and offer the very highest quality and easiest to install products for peace of mind. Actually speak to us if you want more reassurance, we are always
here
on the end of a telephone or email.
•
Made to Measure as Standard - not standard sizes for you to make fit in your opening and compromise
•
Single or double sizes up to 5200mm wide
•
Electric operated as standard with 2 different control method options
•
Double skinned aluminium slats with foam core for insulation
•
Fully UK compliant safety detection on the remote control models
•
2 Year Warranty on everything
55mm Compact or Standard 77mm Door Curtains
Choose from our 55mm or 77mm double skinned aluminum roller door curtains. The 55mm compact roller door is perfect for single garages or where you have limited space to fit the roll or guides in and want to maximise drive through sizes. If you have plenty of side and headroom then look at our 77mm double skinned aluminium curtain model. The 77mm is the better option and only choice for double width garages. All the slats used in our doors are of the highest quality and have appropriate guides and motor drive units to give the best final product based on the size.
| | | | | |
| --- | --- | --- | --- | --- |
| 55mm Lath | 55mm Locking straps | 77mm Locking Rings | 77mm Safety Brake | Lined Guides |
Electric Button Control or Remote Control ?
What do you actually use your garage for?
A recent study showed nearly 2/3rds of houses with a garage used the garage for anything else but putting a vehicle inside.
If you do actually go in and out every day with your vehicle the remote control makes sense for sure, to operate the door from inside your vehicle either inside or outside the garage.
| | | |
| --- | --- | --- |
| Remote Control Operation | Telco Wired Control Unit | |
If you use your garage for another room in your home then you should perhaps consider the option of a wall mounted push button and/or an external key switch because you are entering your garage on foot. When you use a 'hold to run' keyswitch or push button and it is in direct sight of the electric roller door you do not require any safety detection devices and therefore have less electronics involved, less cost and easier ongoing maintenance. If in doubt give us a call or email us.
| | | |
| --- | --- | --- |
| Wall mounted Rocker Switch | Wired Key Switch | Genesis Control Unit |
Full, Half or No Hood?
Why do you need or not need a hood cover for a roller garage door?
We offer the 55mm roller doors with a half hood or full hood option and the 77mm with a No hood or full hood option.
The half hood effectively gives you a folded aluminium cover section which provides a full fascia to the front, which gives you a fascia and neat finish if you don't happen to have enough or any headroom internally. It also gives a better seal between the curtain face and the fascia section.
A Full hood will provide you with the same fascia, but the aluminium hood is now a 4 sided – 2 part system which gives better overall protection all round and improves wind ingress. Aesthetically of course it is a neater finish as you do not see the curtain roll.
| | | |
| --- | --- | --- |
| No Hood | Half Hood | Full Hood |

Up to 21 colour options
Far more colour choice than most other aluminium roller door suppliers!!
3 standard colours for our standard colour range and 21 colours on our premium range models.
The 77mm door models also include 3 woodgrain effect finishes and 3 on trend solid colours. All colour choices are the same on both sides.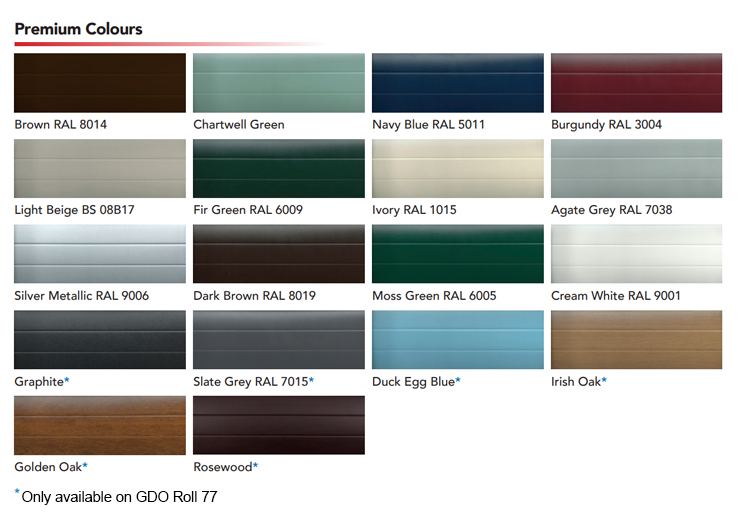 ---
GDO Roll 55 Electric Button Control
With Half Hood -15 Colour Options

Prices from £524.40

GDO Roll 55 Electric Button Control
With Full Hood - 15 Colour Options

Prices from £549.60

GDO Roll 55 Electric Remote Control
With Half Hood - 15 Colour Options

Prices from £709.20

GDO Roll 55 Electric Remote Control
With Full Hood - 15 Colour Options

Prices from £728.40

GDO Roll 77 Electric Button Control
With No Hood - 21 Colour Options

Prices from £619.20

GDO Roll 77 Electric Button Control
With Full Hood - 21 Colour Options

Prices from £706.80

GDO Roll 77 Electric Remote Control
With No Hood - 21 Colour Options

Prices from £787.20

GDO Roll 77 Electric Remote Control
With No Hood - 21 Colour Options

Prices from £874.80