Lowest Roller Garage Door Prices!

Choose from three standard Gliderol steel roller garage door sizes, and get the best price for a quality roller door on the internet today!*
*Plastisol finish colours only, offer does not apply to Laminate woodgrain finishes.
A top quality, leading brand, reliable, fully finished steel roller garage door from a leading UK company delivered to your door!
Gliderol roller garage doors are one of the longest established roller garage door manufacturers in the UK, and produce a superb steel continuous curtain roller garage door with a choice of durable fully finished colours. Complete with manual or remote control operation, the choice is yours.
Select any one of the three sizes below and get a genuine great price deal.

Manual Door prices as below:
Gliderol Single Skin Roller
7"2 x 7"0

FROM £390




Gliderol Single Skin Roller
7"8 x 7"0

FROM £398

Gliderol Single Skin Roller
8"4 x 7"0

FROM £413
Prices shown exclude VAT - delivery is charged by area.

7'2" x 7'0" order size is for a structural opening ideally 7'0" x 7'0" (2134mm x 2134mm)
7'8" x 7'0" order size is for a structural opening ideally 7'6" x 7'0" (2286mm x 2134mm)
8'4" x 7'0" order size is for a structural opening ideally 8'2" x 7'0" (2490mm x 2134mm)

The openings can be smaller on each of the 3 sizes, between the next size option down. These roller doors are designed to fit BEHIND an opening and therefore the guides can overlap more if required if the opening is smaller. Example: A roller door with the ordering size 7'8' x 7'0" is for a structural opening of 7'6" x 7'0" ideally, but it can also fit behind an opening 7'4" x 6'9" without any adjustments. Make sure there is sufficent return space internally for the side guides and any overlap.. See drawing at the bottom...


Add a Glidermatic GRD Operator for only £165.00!*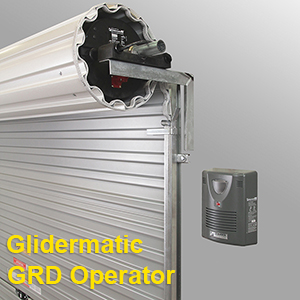 Remote Control Electric motor option comes complete with two hand held transmitters and internal manual override facility. Other accessories are available.
The sizes shown above are for a perfect fit, however as a roller garage door does not go through the structural opening during operation, it is possible to fit a larger standard size door into a smaller width opening as long as the internal face returns of the garage are wide enough to take the overlap of the guides and support brackets.
e.g. - if your garage structural opening is 7"4" (2240mm) wide then a 7"8" wide roller door will fit as long as your internal brickwork pier faces are wide enough to take the extra overlap either side.
The 7'8" wide ordering reference is for a perfect opening of 7'6" (2286mm) wide ideally and obviously if it is wider then you could make the sizes work by adding timber posts and reducing the width back to 7'6".
Height is not so important as the guides can be cut on site during installation if you do not have quite enough height on your opening or internally.
Delivery charges shown and available to mainland UK in the checkout process except the Scottish Highlands and Islands, although this may be available - POA. *Offer applies to Plastisol Colours Only*

Once your order is placed you will receive an e-mail confirmation to check your order and dimensions, and once you confirm with us then the order is processed and your roller garage door should be with you in approximately 3-4 weeks* and is delivered by specialised transport. We require a person to inspect, help unload, and sign for the door on site; plenty of notice will be given for the delivery date.
*delivery times can vary.
The roller door is delivered wrapped in a roll and the tracks and fixing pack are seperate items. Installation instructions are included.
If you require a larger or a made to order size, then go to our online shop with sizes available up to 16 feet wide and 10 feet high, manual or remote control.