Upgrade to Colour Finish for Free!
Carteck Insulated Sectional Garage Doors are effortless to use, safe, secure and reliable and above all one of the highest quality sectional garage doors in the UK.
Carteck Sectional doors come in a wide range of designs that will transform the look of your home and the way you use your garage space.
It is one of the only sectional garage doors where the standard spring mechanism gives you the full drive through height when opened with an electric operator, all down to the unique tension spring system used.
40mm double skinned insulated door panels provide excellent insulation and strength, which also gives security. Make your garage warmer, drier and more secure with a sectional garage door, a proper garage door giving features other door cannot..
Choose your design, the door texture finish, select your FREE colour.*
* Offer only valid when ordered with a remote control electric operator.
---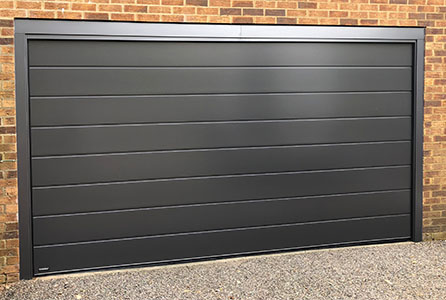 Centre-ribbed Sectional Garage Doors

As an alternative to the standard ribbed garage door, the centre ribbed design is reduced to only one rib per section. This lends to a very smooth, clean and stylish modern twist in the sectional garage door range. Available in all four finishes and colours this garage door suits every type of property.
Available textures: Plain, Stucco, Micro-profile and Woodgrain

---
This remarkable unribbed sectional garage door is impressive in appearance due to their puristic design. The large elements bring their own visual charm, which gives any property a modern, clean and unique look. This garage door is available in all surface styles, stylish glazing options and a wide range of colours according to your own ideas.
Available textures: Plain, Stucco, Micro-profile and Woodgrain

---
This elegant, in vogue ribbed garage door design is one of the most popular of the CarTeck sectional garage door range. Comprised of three evenly spaced horizontal ribs there are four beautiful and unique surface structures available for this design making it very versatile and appropriate to any type of property. Choose from the beautiful natural appearance 'woodgrain', 'stucco', 'micro-profiled' or as an eye catching, minimalist design, 'smooth'.
Available textures: Plain, Stucco, Micro-profile and Woodgrain

---
Attractive and stylish this sectional garage door is the timeless classic. The elegant surface with the large cassette elements gives this garage door a high-quality, impressive appearance. The beautiful woodgrain finish available as standard and there are eight different window styles to choose from to compliment your garage door choose and almost any colour you can imagine. Georgian White finish is embossed. Georgian Wood Design texture is smooth.
Available textures: Woodgrain

---
Door Colour Finish - All these colours are FREE!*
*Offer only valid when ordered with a remote control electric operator.
Trend colours are selected shades that have generally come to be considered as the most popular colours for garage doors. The colours are held as coated steel from which door panels are made to order. The process for creating the coloured steel involves coating the steel at the mill during rolling. As a result the finish is very uniform and has a low gloss finish.

Please Note: Where doors are exposed to direct sunlight dark colours should be avoided.

Frame legs and head are smooth and white as standard.
Door texture finishes are available in the following, please note Georgian doors are only available in the woodgrain surface finish.

Terms and Conditions apply.