GRP Garage Doors
GRP (Glass Reinforced Polyester) garage doors are quite simply one of the best type of doors that you can buy. GRP has a better strength to weight ratio than steel, is a naturally insulating material, it won't warp, shrink or rust and is virtually maintenance free.

GRP was the only alternative low-maintenance option to high maintenance timber for many years and was very popular as a result. The introduction of woodgrain effect laminated steel has impacted on this popularity, however woodgrain laminates are a poor second when compared to GRP. The dramatic rises in steel costs have eroded the price differential between steel and the premium product that is GRP and as a result GRP is in a period of renaissance. GRP is becoming more widely used in Europe due to the development work in the UK market.
What is GRP?
A modern composite laminate, GRP or Glass Reinforced Polyester or fibreglass is a versatile and well proven construction material that has been in use for over 50 years in a huge variety of applications, from boatbuilding, to motor vehicles, to building materials.
Polyester resins are reinforced with glass fibres to produce a remarkably strong material that faithfully replicates the textures and nuances of the natural materials from which the moulds are taken.
Properties
- A naturally dent-resistant laminate: GRP is able to withstand knocks or blows that would permanently deform and damage a traditional steel door. Unlike steel, GRP door panels are very stable and will not rust or corrode, and are particularly suitable for areas close to the coast where steel doors are severely tested and often have a disappointingly brief life.
- GRP door panels will not shrink, warp or twist. Unlike timber, they do not require the regular attention needed to ensure a timber door retains its good looks. GRP like any material will change colour (or fade) when exposed to sunlight. This is a natural and unavoidable process that affects all materials and is gradual over the life of the product.Such colour changes will, under normal circumstances, be uniform over the face of the door. The only exception is when the door is located in strong sunlight but where a particular area of the door surface is left in shade for long periods of time. Under these circumstances a GRP garage door (like any other type of garage door) will exhibit varying levels of change.

GRP is an inherently translucent product – glassfibre mat is precisely that – glass! It is therefore a feature of the product that strong light can be seen through a GRP door panel. The complaint that a door that lets light through is due to it being 'too thin' and therefore faulty, is inaccurate.
Gelcoat, by its very nature, needs to be a specific thickness to allow it to form a strong but flexible coating on the door surface. If the face gelcoat layer is too thick, it will be brittle and prone to cracking and breaking rather than bending or deflecting. This is critical when a force, such as a knock or blow to the door, is applied.
It is therefore quite normal to be able to see strong light through the unbraced areas of the panel on any single skin GRP garage door.
Attractive appearance – The look of a GRP door, whether it is of a high gloss finish or the faithful representation of natural woodgrain, is down to the ability of the gelcoated layer on the front face of the door to replicate the specific pattern contained in the door mould.

GRP and the environment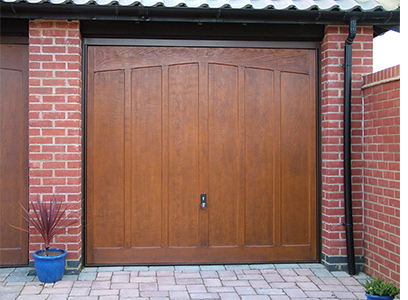 : GRP is made from benign compounds many of which are naturally occurring and is often recycled by grinding and re-use as inert filler with no long-term detrimental effects to the environment.

Can GRP be repaired?
One further advantageous feature of GRP is its ease of repair. Should a door panel become scratched or damaged, GRP, more than any other material used in garage door construction, is easily and effectively restored leaving a repair that would pass the closest inspection.

How are moulds made?
Moulds are taken from craftsman built timber door originals. The materials used are often softwoods that create outstanding definition in the timber grain. Softwoods are unsuitable for exterior joinery use but in GRP there are no such limits, so it could actually be claimed that GRP really is better than the real thing.
GRP can be moulded in smooth gloss finishes or with a stunningly life like woodgrain finish. The moulds produce an authentic and faithful finish to a garage door that will even deceive the experts.
Maintenance
Minimal maintenance is needed to keep the GRP door panel in good shape. Regularly wash the door down with fresh running water and immediately remove bird droppings the same way. Do not rub the door with any abrasive, caustic, acidic or proprietary cleaners, all of which will damage the surface finish. The gloss appearance of your Glosswhite GRP garage door can be enhanced after time by washing the door down then by carefully applying a very fine polishing paste or liquid such as 'T -Cut' to the surface and polishing off. What about colour matching for pairs or existing doors?
Each door is hand finished and therefore unique - matching pairs are possible but must be clearly specified when ordered. It is possible to match an existing door however it may prove practical to re-stain the existing door finish to ensure consistent ageing of each doors finish.
Security
With a better strength/weight ratio than steel, GRP doors are strong and as a result also secure.
Do be wary of GRP garage doors that are very low in price, generally below about £300 as these doors will have the very least amount of material used in manufacture and although look good initially will be very prone to fast deteriation with use – there is a limit to the lower levels of quality with GRP.
Manufacturers of GRP Garage Doors
Hormann GRP Up and Over

- Available in supersmooth, high gloss white finish or timber look aesthetics

- Made using a steel sub chassis

- Glazing options available to allow natural light into your garage, particularly appealing if you use your garage as a workshop or gym

- A variety of handles available that are dependant on door type for manual operation

- Various finishes and designs allow for suitability on modern and more traditional properties

Garador GRP Up and Over

- Variety of designs available to suit different types of properties

- Each GRP panel is fixed into a rigid box section chassis

- Stable door construction that assures no twisting or warping

- Plain, square leaded and diamond leaded window options available

- Brass effect, brushed steel effect, chrome effect and white handle options

Garador GRP Side Hinged

- Supplied on a steel frame, ready to fit

- Available in high gloss white finish or timber look aesthetics

- Door opens outwards and no tracks running back into the garage

- Various door colour finishes and designs to suit modern and more traditional homes