GDO Doors Overview

GDO Steel Up and Over Doors
If you are looking for a low maintenance, high quality up and over garage door for a reasonable price, the GDO steel doors are a great choice. They are exceptional value for money and built to last. All doors are CE marked and manufactured with care in Britain for the fastest delivery even if ordered as a coloured option.

These sturdy steel doors come with an optional, but highly recommended factory fitted steel sub frame robust locking system as standard, and there are several elegant designs and colours to choose from.

The pre-fitted steel sub frame means that these doors are incredibly easy to install, or you can choose to have the door without a frame, to fit to an existing frame.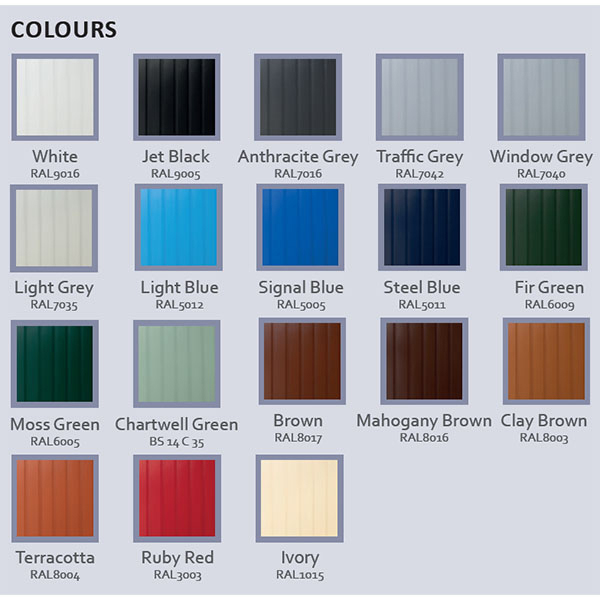 The range of styles and sizes available means there will be something for every garage, from traditional glazed styles, simple ribbed styles, to ultra modern styles, and a range of sizes up to 14ft in width. The simple but effective dual cable locking system on all doors ensures peace of mind for you and your family, and steel bracing on the back of all doors makes for a strong panel.

The standard locking handle is Black, but you have the option to upgrade to Chrome or White to personalise your door as you wish.

Any retractable geared up & over door can be automated, which will make life easy for you being able to open the door at the touch of a button. The electric operator provides additional security as well as ease of use. Should you wish to invest in an electric operator for your door we have several options available, see our page for more information.

Click on image to enlarge

GDO Side Hinged Doors
GDO Steel Side Hinged Garage Doors are stylish, low maintenance and easy to operate solution for your garage.

The GDO Side Hinged Doors are easy to install, factory pre-assembled for the easiest DIY installation with a steel sub frame as standard.

There are 12 attractive powdercoated finishes available, meaning there is a finish to suit every property. The smooth powdercoated finish on the door and frame can simply be wiped clean, and does not require re-painting.

Fitted with a steel sub-frame as standard means that installation on site is easy. The doors also have steel bracing to the back, along with twin latches on the active leaf and shoot bolts on the inactive leaf, for peace of mind for you and your family.

These side hinged doors are available in 50/50 split, or 70/30 split, and are suitable for openings right up to 14ft wide.

GDO GRP Side Hinged Garage Doors are made with a long lasting composite material which is built to last!
The doors are made in a real timber mould, taking on the natural grain patterns for a realistic feel and look. The woodgrain doors are available in a beautiful selection of finishes: White, Bleached Oak, Dark Mahogany, Honey Beech, Rosewood and Ebony.
The GDO composite side hinged doors come with a factory fitted steel frame for ease of installation. This frame is powder coated in three different colours (White, Brown or Black) to compliment the chosen colour of your new door.
Side hinged doors are great for garages with limited space inside, making full use of your internal space and also losing very little drive through width and height compared with other types of doors. They are handy if the garage is only used for pedestrian access, as half of the door can be kept bolted and you can make use of storage space directly behind the door.


GDO Timber Side Hinged Garage Doors are easy to operate and made to last and pre-assembled for the easiest on site installation.

The GDO Timber Side Hinged Doors benefit from excellent opening mechanism, locking and strong steel chassis. You will find these doors add a classic touch to any home.

The timber side hinged garage doors are only available in 50/50 split.

The steel bracing on these side hinged doors gives the doors a robust feel. The side hinged doors are supplied with a standard black handle and internal lock handle.

Side hinged doors have high grade corrosion protected hinges for smooth operation and elimination of leaf "sag".

All doors feature a strong sub-chassis with bracing plates to ensure rigidity of the door panel. Standard doors have top and bottom cable operated lock latches to the active leaf and shoot bolts to the inactive leaf for dependable security.