Steel Side Hinged Fast Delivery
CHRISTMAS UPDATE: PLEASE CONTACT US TO DISCUSS EXACT DELIVERY DATES. THESE MAY VARY ON AN ORDER/ORDER BASIS DUE TO MANUFACTURE SCHEDULES AND DELIVERY ROUTES.
The Superb GDO Streatham and Reigate Double Skinned Insulated Side Hinged Doors delivered in 7-10 Days
Pre assembled at the factory with all fixing sub frame, hardware, locking and furniture, fully finished colours as standard!!
7-10 Day Lead-time from order confirmation on GDO Streatham and Reigate Insulated Double Skinned Side Hinged Doors*
Available in 16 standard sizes and three colour options.
Benefits of the GDO Streatham and Reigate Steel, Double Skinned, Side Hinged Door: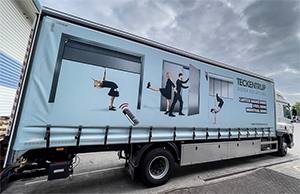 > Available in our most popular UK size options - 4 widths and 4 heights to choose from
> Factory preassembled with frame, hinges, locking and furniture all ready to go..
> Colour options of Anthracite, Black or White high quality powdercoat finish.
> Improved three-part threshold as standard with special anti-stain grease
> 3D adjustable hinges for quick and easy leaf adjustment​
> Adjustable strike plate keeps for rattle-free latching
> Concealed surface mounted shoot bolts to the inactive leaf
> Adjustable flush bolt keeps for snug location against seals
> Wind out jack bolts to easily, quickly and perfectly set the sub frame before fixing and sealing.
Order Now for delivery within just 7-10 days!
* Ordering sizes refer to the Overall Width and Height of the doors and the outer fixing sub frame combined. The standard sizes offered cover the majority of single UK garage sizes although some packing or trimming might be necessary.

The sizes do not include for any tolerance for fitting, so the ideal structural opening would be 10 - 20mm wider and 5 - 10mm higher than the sizes stated for ordering, but this could be greater if packers are used (not provided)


*Terms and conditions apply.
For any deliveries into Scotland or Islands please contact us with your postcode and we can confirm with the manufacturer if timescales may be affected.