GDO Aldway (Behind Fit - 9 Colour Options) Steel Sectional Doors
GDO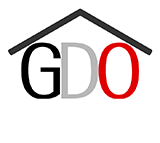 Sectional Doors Steel GEAR TYPE: Side Springs
Manufactured in the UK these quality doors are made to measure to the mm (at no extra cost) and boast the fast delivery time of just 3-4 weeks. The improved fit combined with the 40mm thick double skinned insulated panels help both security and draft free installation.
The nature of vertical rising sectional doors help you to maximise the usable space both inside and outside of the garage.
This behind fit door maximises the entry with of your garage entrance as all tracks are installed behind the reveal.