Advantages of a Sectional Garage Door
Benefit from the numerous unique advantages of a sectional garage door | The space-saving vertical rolling door that can fit just about anywhere...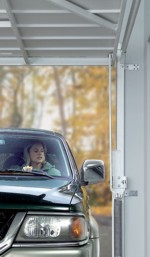 There are many details which distinguish sectional garage doors from other garage door types, allowing you to appreciate the practical advantages and high levels of security every day. You can conveniently drive into your garage and have more space inside and in front of the garage. Treat yourself to this comfort and convenience.

A Hormann sectional door always fits perfectly, operates to free up your garage space and allow you to park directly in front of, as well as behind your garage door.
Wider passage
The additional passage width makes driving in and out of the garage a far more simple task. There is often a matter of millimetres with older up-and-over doors, however a Hormann sectional door can offer upto 140mm of extra drive through space, making it easier to park. This is a decisive advantage for larger cars, vans and off-road vehicles.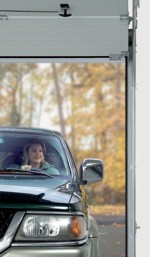 Space-saving - Vertical Operation
Sectional garage doors open vertically and are suspended under the ceiling to sustain additional space. This constructional principle means you can take full advantage of the space inside and in front of the garage for parking and manouvering.
Sealed all-round
Flexible and weather-resistant seals on all four sides of Hormann's sectional doors protect it against both the wind and rain. The bottom seal can easily accommodate slight irregularities in the floor thanks to its large-sized profile lip.
Variable fitting
The shape of the garage opening is not of significant importance. Whether the shape is square or angled with segmental or full centred arch, a Hormann sectional garage door can always give a perfect fit as it does not have to travel through the garage aperture at any point just like a rolller garage door but without the door section contact a roller door has.

TRUSTED BRAND QUALITY | MARKET LEADING INNOVATIONS
STANDARD OR PURPOSE MADE SIZES | CHOOSE YOUR FINISH | CHOOSE YOUR DESIGN | DOOR DESIGN OVERVIEW | CHOOSE YOUR COLOUR
CLEAR VISION FROM HORMANN | HANDLES AND ACCESSORIES | REMOTE CONTROL OPERATION | HORMANN SAFETY AS STANDARD | TESTED AND CERTIFICATED