The answer to your selected question is shown below.
A:
The best garage door mechanism will depend on your garage and what you want the door to look like and other features such as security and insulation, etc..
Think carefully however before committing to a new garage door based purely on how it looks, the mechanism and what actual opening sizes you end up with will be far more important than how it looks if you cannot get your vehicle in or out easily and so many doors have internal tracking to incorporate inside your garage so be aware of obstacles.
Apart from the mechanism type, these days security, insulation and maintenance are also key issues. Colours are almost limitless in certain door types and it may be possible to colour match to the window frames and front door colour of your home*
*Exact matches cannot be guaranteed.

What door mechanism should you have?

Retractable Up and Over Garage Doors are named as such because the one piece door panel retracts fully into the garage when it is open. These doors do not require cables in the lifting process. Lifting arms with tensions springs are mounted onto the sides, which open the door panel into the garage on horizontal steel runners using rollers at each corner of the door panel as support. Parking too close to the garage door is not possible because a large portion of the door swings outwards as it opens and slides away into the garage. However retractable garage doors are still popular because their mechanism is ideal for automatic control or operation. These doors are also generally available in all types of materials and many different styles not necessarily possible in other door types.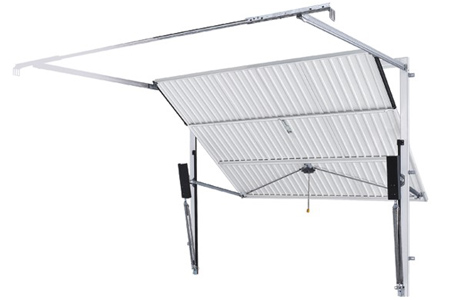 ---
Canopy Up and Over Garage Doors are the most common type when it comes to garage door mechanisms in the UK but only just now. This type of door is built from a single rigid panel, which usually requires torsion springs for counterbalance as it lifts open upwards and backwards. As the name suggests a canopy garage door swings towards the outside as it opens and then slides upwards to the ceiling. About a third of the door protrudes out of the garage opening to allow for more room inside. The canopy mechanism provides a good width to drive through and it is the easiest to install. It is also available in a wide range of materials. Canopy garage doors are generally the most affordable option in the UK, however, this mechanism can only be automated using a canopy bow arm converter system and this reduces headroom, if this is an issue.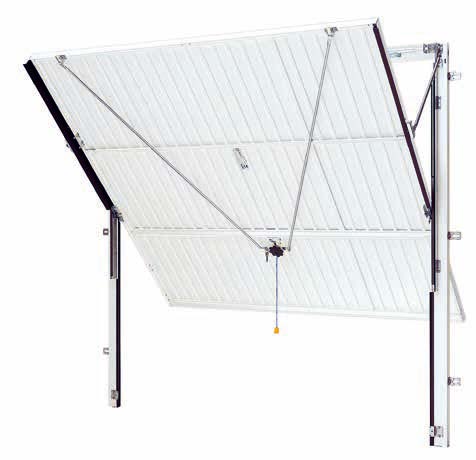 ---
Sectional Garage Doors are made up of several individual panels that are hinged horizontally (usually four on an average height door). The panel sections slide up on vertical tracks and then slide into horizontal tracks adjacent to the garage ceiling. The main advantage this mechanism has above the up and over types is that this garage door does not swing outwards when opening or closing, ideal for most standard length driveways. This door type has the ability to maximize the height and width of the drive through area, which is ideal if you have a large vehicle. Sectional garage doors mainly come in steel and are almost all insulated double skinned panels now, but specialised timber versions are also available in the UK.
The sectional door is the best alternative to a roller door in many ways.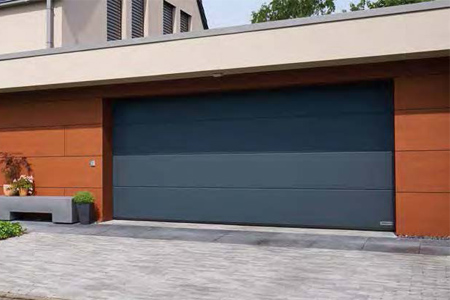 ---
Roller Garage Doors optimize the height and width of your garage because they do not take up a lot of space anywhere. This type of door is made of narrow horizontal aluminium slats that lets the door rise vertically and then roll up into the garage ceiling. There is also a popular and very budget orientated steel roller door which is made from one sheet of single skin steel. Gliderol single skin roller doors.
This mechanism is ideal if you have a short driveway like the sectional door because you can park your car close to the garage door and still operate it. The slats come in either aluminum or steel only and the thickness of each will determine how big the curtain roll will be when the door is open. Roller garage door can be operated either as manual or electric versions.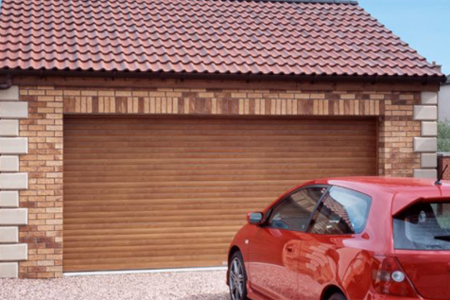 ---
Side Hinged Garage Doors are very traditional in their style and ideal for those who do not have inside clearance for the up and over door or sectional types. The garage door is usually divided into two parts and strong hinges at the sides attach each to the garage via a sub frame. This door mechanism allows easy and fast access into the garage interior and they are ideal for a garage which is not used for a vehicle as pedestrian access is so convenient. Side hinged doors come in different materials - wood (timber) and steel with options on single or insulated double skinned versions. This door type can be easily automated by making use of an overhead door opener mechanism or a converter that attaches each wing to the electric operator as well as the more expensive piston type drives as used on electric gates.
More recently there are larger choices for side hinged doors with specifications and ratings worthy of an entrance door. if you have valuable goods or equipment in your garage then there are options for LPS1175 certified doors or RC2 rated doors as well as tested and stated U values for insulation. These are all double skinned steel door panels with high levels of finish and quality components with weatherseals in the factory fitted sub frame and optional thresholds too.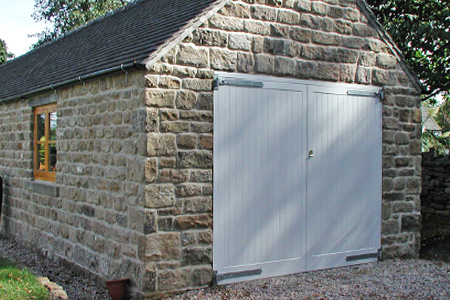 ---
Round the Corner Doors are also traditional and again offer the non swing out principal but of course do need one wall for the door to travel along into the garage. This does put many people off but it is relatively easy to create a false wall with stud partition to allow the door to disappear behind and offer a wall for shelving, etc if required. Round the corner doors come in aluminium, steel or the traditional timber with options on standard vertical slats or panel sections, sometimes called side sectional doors by manufacturers. You can use this type of door for some extremely large widths of garage and also have bi parting models to allow one side only to be operated. Manual or electric versions are available in all these modern versions of this traditional door type and the concerns people have for the dust trap of the bottom channel in the ground are alleviated as most of these doors now use a track system that is surface mounted also acting as a weather barrier. This type of door can be used with almost no internal headroom available unlike most of the others.