Seceuroglide Sectional Door - Centre Ribbed Design Steel Sectional Doors
Seceuroglide


Sectional Doors Steel GEAR TYPE: Elite, Plus, Compact
The Seceuroglide Sectional Door design makes the most of the space both inside and outside of the garage, by rising vertically allowing you to park right up to the door. Manufactured with care in Britain, the quality, value, ease of use and fast leading time make these sectional doors an outstanding choice.

When choosing a sectional door, headroom can sometimes be an issue but with the 60mm rear-mount option, and made to measure sizes as standard, the Seceuroglide sectional doors will fit any garage.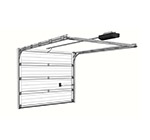 Three gear types available:
Sectional Elite - factory fitted, partially tensioned springs & cables.
Sectional Compact - perfect for fitting the sectional door into low headroom garages.
Sectional Plus - The plus offers doors up to 5m wide and has all the same running gear and tracks.