Safety Features Canopy Gear
The Canopy Gear
The safety checklist for your old canopy gear door:
Is there an anti-fall safeguard fitted to your present door to prevent injury if a cable breaks?
Is the door safely and securely guided as well as protected against uncontrolled movements?
Are the tracks designed in such a way that it is impossible for the rollers to derail?
Do protective cover strips on the frame and the door leaf prevent trapped fingers and clothing?
After opening, does the door come to a safe stop and hold up securely?
Are the doors cables internally guided?
Does your door have a cable drum with deep grooves to ensure the cable fits securely and prevents cables jumping?
If you answered no to any of these questions, your door is no longer safe and needs to be replaced before it causes injury.
Anti-fall safeguard
The side tracks feature punch-outs at 100mm spacings. In the event of a cable or spring breaking, the bolt can fully engage in the hole, thereby safely arresting the door. To provide trap protection, the holes are covered over with plastic tape which is perforated by the bolt as soon as the safeguard comes into play.

Safe stop
A specially designed spring buffer stop makes sure the door comes to a safe halt in the open position.

Protective cover profiles on door edges
Flexible profile strips on the closing edges of the door leaf prevent fingers from getting trapped.



Internally guided cables
The cables are guided inside the guide rails to protect from injuries.

Cable drum
The cable drum is diecast alloy and has deep grooves to securely retain the 2.4mm cable - a cable at least twice the thickness of many other makes.
All Hormann canopy geared doors are tested and certified in compliance with the high safety requirements and performance characteristics of the European Standard 13241-1. This gives you the reassurance that your purchase of a Hormann up-and-over door is a secure and worthwhile investment. It's worthwhile making a comparison.
Easy fitting saves time
Hormann offers a steel fixing frame for all canopy doors. This frame makes an on-site timber frame redundant and saves valuable installation time as it is quick and easy to fit.
The benefits also apply to doors fitted to a timber frame.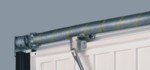 2-point latching
Hard PVC-latches in tough zinc diecast housings engage automatically and quietly at either side into steel latch keeps.
4-point locking
If even more security is required, a 4-point locking arrangement is available as a factory-fitted optional extra.
A smooth, quiet door action
Everything is perfectly matched: the precision vertical track guidance, the smooth-running plastic rollers, the plastic profiles down the sides (no steel on steel contact) and the galvanized torsion spring.



Sturdy steel frame
Galvanized mild steel, welded into a wide robust box section construction gives the optional door frame great strength and stability. The finish is powder coated to match the panel colour or with GRP and timber doors the frame is either white or dark brown.

Security locking
Factory-fitted profile cylinder locking is a standard feature. Two keys are provided for outside locking. Inside locking is by a snib position on the lock body. An internal "star" handle is also supplied. Master key locking is an optional feature.

If it is important for you to operate your door electrically, we would recommend the retractable gear as this is the technically finest solution.




Advantages of a Canopy Door

> Provides full drive through width when open
> No internal fixed horizontal tracking required for guiding rollers
> Ease of installation
> 4 point locking (optional)
> Ideal door for smaller sizes and manual operation only

Disadvantages of a Canopy Door

> Not ideal for electric automation
HORMANN - THE ORIGINAL UP AND OVER | WHAT MAKES A HORMANN DOOR SO SPECIAL?
NATURAL BEAUTY OF TIMBER | ELEGANT AND DURABLE GRP DOORS | DESIGN YOUR OWN DOOR | CLASSIC DESIGNS IN STEEL
WINDOWS AND HANDLES | ELECTRIC AUTOMATION | SAFETY FEATURES | EASE OF INSTALLATION | TECHNICAL DETAILS | ONLINE PRICES >