Steel Garage Doors
Steel Garage Doors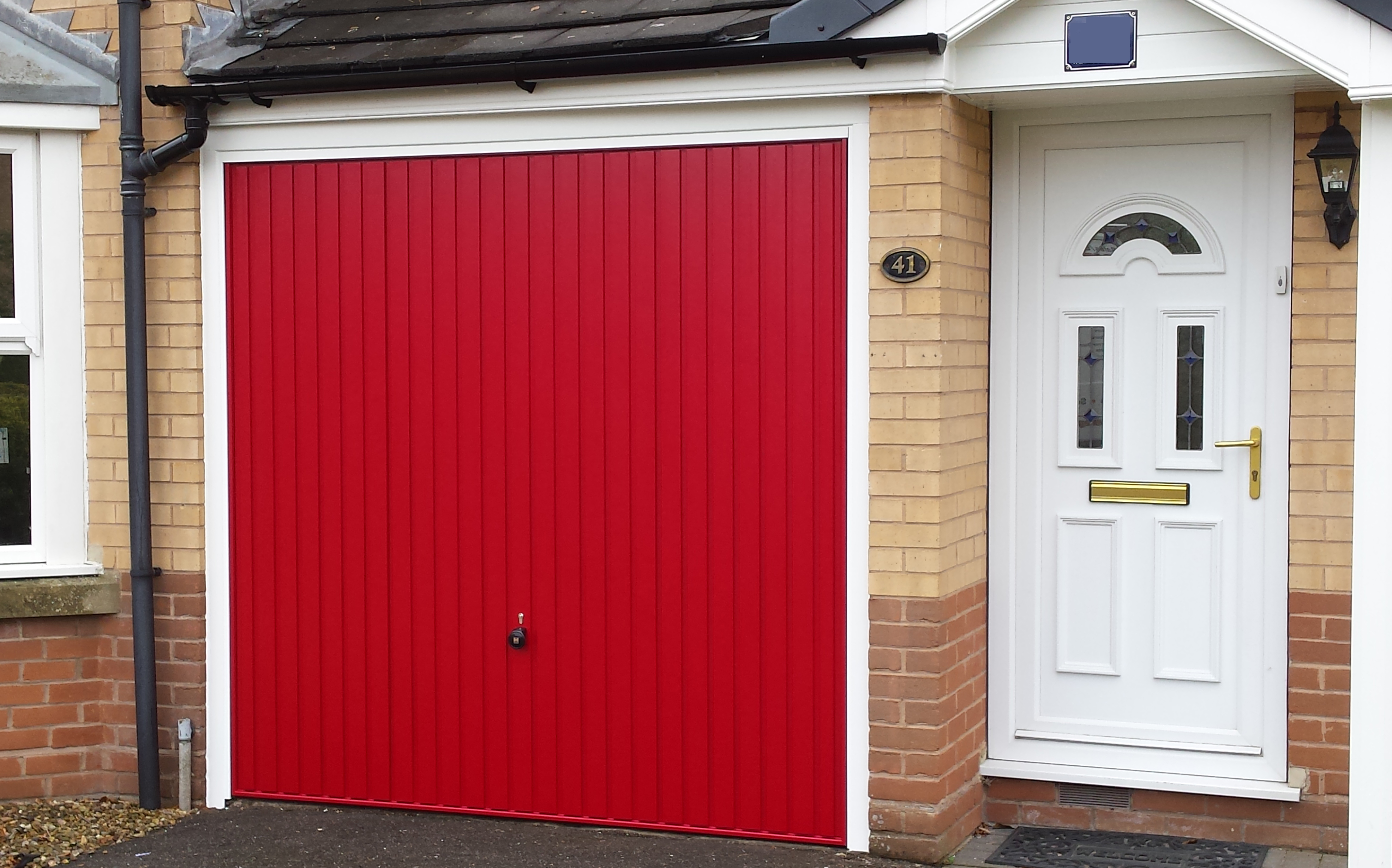 Steel is by far the most common material type used and sold for garage doors in the UK. It is strong and yet very maleable, making it ideal for pressing various finishes into the surface, as well as endless designs into the finished front face, creating garage doors up to very large sizes. As steel is a strong material, it is very secure in comparison to others that do not have the resistance to a forced entry attempt. The worst material in this instance is Upvc, which in garage doors offers only a thin sheet of material that can be easily cut through with a sharp knife, enabling one to gain access to internal locking.
There are many different grades and thickness levels of steel however, something which may not always be immediately obvious. Poor grade, thinner steel on pressed panelled doors will have a tendency to show creases and warped sections where the stresses of the machine pressing have stretched and distorted the steel panel. This can make a brand new door look like a second hand product before it is even fitted!
Steel Up & Over Garage Doors
One piece steel up and over garage doors are best when the steel chassis the main panel is constructed from a box section to give it rigidity at every angle. Lower quality C channel sections do not provide the strength, and therefore do not provide security or a very long lifespan. Hormann and Garador use pretty much the same box section chassis system for all their steel up and over garage doors. The actual infill panel section for these three manufacturers is made from high quality steel offering a crisp, crease free panel in all the designs offered. The Hormann up and over garage door range from their German factory just has that edge in that all their doors are welded in the corners for ultimate rigidity.

The steel is galvanised for both manufacturers and many of the components on the door are also galvanised or zinc plated, which is one of the reasons why the doors can carry a 10 year warranty without problems.
GDO Steel up and over garage doors are the ideal solution for a budget friendly, low maintenance and high quality door. Available in a wide range of styles and a choice of 18 colour options.
All of our up and over steel garage doors are best when ordered and installed with a box section steel fixing sub frame, again for strength and security as opposed to a timber sub frame.
| | | |
| --- | --- | --- |
| | | |
| Hormann Steel Up and Over Door | Garador Steel Up and Over Door | GDO Steel Up and Over Door |
Garador's Guardian range of up and over doors is the UK's first range of up and over doors to meet the strict 'Secured by Design' accreditation. Click here for further details.
Steel Sectional Garage Doors

Sectional garage doors are nearly all constructed from steel, with options on single skin panel sections, as well as variations on 20, 42 and 45mm thick double skinned, foam filled panels for strength, security and much larger size ranges. Again, high quality galvanised steel sheeting is roll formed into different panel designs along with the top and bottom edges. This forms into shapes ensuring excellent interlocking and providing maximum sealing and strength when closed up. Sectional doors without these formed sections may not comply with anti-finger trap requirements in the UK.
Hormann, Carteck, Garador are leading German manufacturers of sectional doors. GDO sectional doors are manufactured in the UK, all to the highest specification and made to measure as standard to ensure the perfect fit.
Double skinned panels can produce door widths up to 7500mm wide and 3000mm high using the same operating mechanism and if you want to go larger it is possible but only using industrial specification gear with limited panel designs.
| | | | |
| --- | --- | --- | --- |
| Hormann Steel Sectional Garage Doors | Carteck Steel Sectional Garage Doors | Garador Steel Sectional Garage Doors | GDO Steel Sectional Garage Doors |
Steel Roller Shutter Garage Doors
Roller shutter garage doors constructed from steel tend to fall into only two categories - converted industrial roller doors or continuous curtain lightweight roller doors. These are constructed from a sheet of galvanised steel with pressed ribbings, creating strength laterally and providing a pattern to the door's front.

The industrial door route is best avoided unless your requirement is for a very large door as the guides and motors are generally not suited for domestic garages. The continuous steel curtain option is a favoured option for a basic roller door type whether, manual or electric operated. A large range of colours are available with the plastic coated front face of the door material.
All doors are made to order with some special offers on certain stock sizes which are very adaptable as the doors are nearly always installed on the inside face of the garage opening. This means you always have the potential to fit standard doors in non standard openings, simply with a bigger overlap on the sides if the pier returns allow.
The Gliderol steel roller door is manufactured up to 5000mm wide and 3000mm high, with bigger sizes available on the Series B industrial door range.

As well as the Industrial range of Roller Shutter Garage Doors, there are two other categories that you will find in our shop: Insulated Roller Doors and Single Skin Roller Doors.
| | | |
| --- | --- | --- |
| Gliderol Insulated Roller Doors | Rollmatic Insulated Roller Doors | GaraRoll Insulated Roller Doors |
| SeceuroGlide Insulated Roller Doors | Gliderol Single Skin Roller Doors | |
Steel Side Hinged Garage Doors
Side hinged doors manufactured from steel are reasonably new as a mass produced garage door option and offer great value for door opening widths up to approximately 2500mm wide.

There are 50/50 split options and many 70/30 options for when a smaller door is required for frequent pedestrian access. The beauty of steel is its strength and, unlike timber, very little maintenance; the steel used is galvanised and then powdercoated inside and out in finished colours.
The Garador range offers five designs in standard and purpose made sizes, and now has a range of double skinned, insulated steel side hinged doors, all of which are made to order in a wide range of styles and colours. This type of door always serves as a great solution for the garage mainly used for recreational or workshop type activities. The Carteck Insulated Side Hinged Door range consists of double skinned doors that are all made to order and supplied ready to go, with sub-frame, all ironmongery and furniture factory fitted. GDO steel side hinged doors are equally as stylish as well as being low maintenance and easy to operate for garage entry.
All of the steel side hinged doors have steel box section fixing sub frames to complete the package, giving excellent tight factory tolerances between the panels and the frame and, in most cases, rubber seals make the closed doors very well sealed indeed from the elements. The only weak feature tends to be the floor, and there are many doors mounted or floor fixed weather seals available now to help combat out of level floors.
All the garage door types mentioned above also have steel hinges, tracks, roller components, handle components and steel cables involved in creating the complete door.
| | | |
| --- | --- | --- |
| Garador Steel Side Hinged Garage Doors | Carteck Steel Side Hinged Garage Doors | GDO Steel Side Hinged Garage Doors |
Steel is a very important material for the door industry, even when the panels may be timber or GRP!
Of course the other beauty of steel is it is actually fairly eco-friendly, being recyclable over and over again.